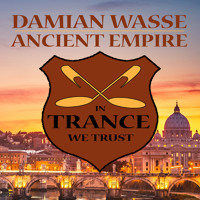 @blackholerec @DamianWasse | In Trance We Trust 637-0 | iTunes Link.
"A great striking beat with an energetic atmosphere for the dancefloor, with a little mellowness in-between to rest your feet!" Mizz Ruby
Russian fella Damian Wasse now presents 'Ancient Empire', his brand new release on In Trance We Trust. And boy, does he deliver with this great uplifting anthem-like piece of trance with its cheery though a little mysterious melody. 'Ancient Empire' once again shows you can definitely leave producing trance masterpieces to Damian Wasse.
Damian Wasse is one of the biggest representatives of the progressive and uplifting trance genre in Russia. His releases are supported by Armin van Buuren, Ferry Corsten, Gareth Emery, Ashley Wallbridge, Paul van Dyk, Markus Schulz, Rank 1, Lange, Paul Oakenfold, Roger Shah, MIKE, Pedro Del Mar and many more.
www.blackholerecordings.com
Think positive. Be happy. x