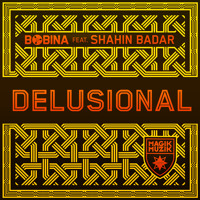 @blackholerec @Bobina @shahinbadar @magikmuzik | Magik Muzik 1119-0 | BeatPort Link.
"Bringing a middle-eastern flavour right from the start, this is brought into the modern day era with edgy synths and a strong beat. Shahin's cultural voice is just beyond gorgeous." Mizz Ruby

Bobina brings the listener directly in eastern atmospheres thanks to his collaboration with award winning songstress Shahin Badar, who is well-known for her vocals on The Prodigy's 'Smack My Bitch Up'. With 'Delusional' Bobina delivers a more uplifting and rhythmic trancer to which Shahin's enchanting vocals give a nice mysterious edge. 'Delusional' is a unique release and a definite must-have.
Think positive. Be happy. x