I really love this release as every sound is so creatively different and just keeps pulling at you and interesting you with twists and turns, even with the remixes give the track completely different atmospheres. You think it's going one way and then bam, a whole new sound slaps you in the face and there's a totally new direction!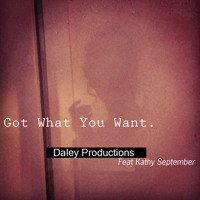 Daley Productions is a 25 Year old Underground Producer, Writer and Recording Artist based in Hertfordshire/North London. Started DJing and producing at the age of 14 and started writing and MCing at the age of 15. Ventured through life in music exploring and working with different genres and artists, working with R&B, Urban, Hip-Hop-UK Rap, Pop, Comercial, Grime and House & Garage with alot of interest in the sounds of old and new. This is his first release on ADAP Records. Kathy September provides the vocals to compliment this house track to give it the perfect combination for a superb summer song. Remixes provided by Solo Suspex who have done 2 remixes, a bass heavy Garage mix and 4x4 mix, GTE provides the dub mix whilst Huggy provides the final remix in this package.
A light funky track with the simple touch of the celeste for the melody. The vocals, WOW. Sexy, sultry, feminine yet deep sounding, just gorgeous. And then the bass comes in, giving it a rounded sound with little changes in melodies, slight twists and intriguing notes. Solo suspex 4x4 remix, kicks in straight away with the pumping beat, this is given a whole new feel with the elements played about with, making it more vibrant & energetic. Solo suspex remix, a little bit of a fiesta feel with the different sounds and beats to start, and then the deep dark bass enters! GTE dub edit, a more chilled house tone, with a lot of bouncyness in the beats, And then hits the bass, still funky just with a darker edge and the vocal snippets giving it a sweeter touch.
Think positive. Be happy. x